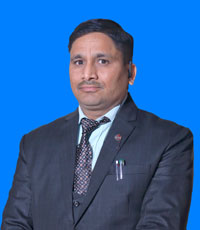 Sudhir Kumar Yadav
"Great personalities are shaped with great experiences"
A complete grown personality has to a balance of physical, emotional, social and spiritual. The new generation of children exhibit skills and talents of unparalleled genius. The future belongs to those who are inquires, Knowledgeable, Thinkers, Principled, Communicators, Open minded, Risk takers and Reflective.
We run our programmes, keeping in mind the potential of child and a way to identify the inherent potential of child and then to nurture it. A child is centric place, Holy Light offers spectrum of activities leading to multiple experience and enrichment of students, Each of these activities is like the beads of a rosary, tied to a common thread- of Trust and Excellence.
The spacious, airy and naturally lighted classrooms in serene surrounding, led by experienced faculties. The state of the art sports facility coupled with Sports Mentor Programmes help us to instill the values in the sports fields, where children are most open and receptive to grasp subtle values in a relaxed and enjoying environment. The best skills for cognition, effective communication, negotiation, computing, stress management and clarity of thoughts under pressure etc. are learnt in the sports field, which is an indispensable, part of any profession today and in the future. We are committed to build a lifelong relationship, a happy confident young individual and a better human being to make this world a better place to live. HLPS is an unparallel experience for Life.